Login
Site
Scripts
Search on page
Last forum posts
Filebase
Other
Wolfmap R.I.P.
Advertising

Wolfmap news archive
News pages
1 2 3 4 5 6 7 8 9 10 11 12 13 14 15 16 17 18 19 20 21 22 23 24 25 26 27 28 29 30 31 32 33 34 35 36 37 38
39 40 41 42 43 44 45 46 47 48 49 50 51 52 53 54 55 56 57 58 59 60 61 62 63 64 65 66 67 68 69 70 71 72

---
~ The show is over ~
01.12.2010 : 08:43
To make it short:
WolfMap will be closed in January 2011.
This month you can use the site as download archive, download now before it's to late.
There will be no news for this month, but next year you can read a full statement why we closed the site here on www.WolfMap.de.
As last goodbye we created a list (html) with all currently active Wolfenstein sites.
Download:
--> Wolfenstein Sites
Happy downloading & A happy new year wish you
uber_noob, Tomacco & Berzerkr

---
~ Ende Gelände ~
01.12.2010 : 08:13
Um gleich auf den Punkt zu kommen:
WolfMap wird im Januar 2011 seinen Betrieb einstellen.
Diesen Monat könnt ihr die Seite noch als Downloadarchiv benutzen, ladet runter bevor es zu spät ist.
News wird es diesen Monat keine geben, aber nächstes Jahr gibt es unter www.WolfMap.de einen vollständigen Bericht in dem wir ausführlich Erläutern weshalb wir die Seite geschlossen haben.
Als kleines Abschiedsgeschenk haben wir Euch ein Liste (html) mit allen bis jetzt aktiven Wolfenstein-Seiten zusammengestellt.
Download:
--> Wolfenstein Sites
Frohes runterladen & Ein gutes neues Jahr wünschen Euch
uber_noob, Tomacco & Berzerkr

---
ET-Mod: Chaos Mod v0.1.6
29.11.2010 : 07:53
What do you get if you take from every mod the best?
Scennative
managed it to organize this chaotic task and is proud to present a first alpha version of his ''Chaos Mod'' for W:ET.
For short you have now new weapons, sights/views, effects and as admin a lot of cvars.
Check it out and report bugs right into this thread.

Download:
--> Chaos Mod v0.1.6
SplashDamage
---
ET-Map: Erdenberg (Beta 2)
28.11.2010 : 13:55
SplashDamage
|
Servers running this Map
---
ET-Minimod: Map-Based Playerskins (Beta 1)
24.11.2010 : 02:00
ischbinz
gives you a little pack including a detailed readme how to do.
This pack contains a few skinsets (standard, temperated, snow, desert) for each team.
It's allowed that you're using this pack as base for your own skinmod for your server, the incuded skinsets work, but are more for demonstration to show how it works.
Download:
--> Map-Based Playerskins (Beta 1)
ischbinz via MSN
---
The FalX Tournaments
24.11.2010 : 01:45
FalX& Clan will dedicate for everyone who are interested, this online utility where you can organize private clan tournaments or between clans.
The requirements necessary for private or public tournaments are:
a request for admin
to mention what clan for
one admin per clan
to be serious
time for this
to invite the competitors
Otherwise everything is easy and automated. The accepted admins for this site will keep in touch with the super admin for registration and help. (private mesaging for admin)
Link: www.falxleagues.netpred4to5 via PM

---
ET-Map: eA's X-Mas 2010
21.11.2010 : 14:56
Special:
- 11 playable songs
- 1 news song
calibra8v via PM
| Servers running this Map
---
ET-Map: MGS: Heliport
21.11.2010 : 14:50
calibra8v via PM
|
Servers running this Map
---
RtCW-SP-Map: Return to Castelvecchio
21.11.2010 : 14:46
Wolfenstein Files
---
ET-Minimod: ET High Quality
04.11.2010 : 20:19
"Enemy Territory High Quality" has only 75 Mb because the textures are in original resolution and have just one simple filter.
Download:
--> Enemy Territory High Quality
StoerFaktoR via PM
---
ET-Skinpack: Clonewars Mod (Beta 6)
01.11.2010 : 22:44
Worked on this mod since january 2009, first release in august 2009, this version is from august 2010.
I've stopped working on this mod with this release. Feel free to use it on your server.
You're allowed to modify/improve this pack - just say who made the base pack you're allowed to use models/textures in other packs - just say in the readme that ischbinz made the model(s)/texture(s) you used.

Download:
--> Clonewars Mod (Beta 6)
ischbinz via MSN
---
ET-Skinpack: NQ X-Mas 2010
31.10.2010 : 19:38
Activate g_realism 4 bitmask in your server config (Covert Ops will inherit opponent's facial features (head) when stealing a uniform (1.2.8 and higher) to ensure the best covert experience with grinch!
Download:
--> NQ X-Mas 2010
Molotov via PM
---
ET-Map: Fueldump Extended (Final)
28.10.2010 : 00:44
Changes:
Falling snow added.
Strong Fog added (snipering will be hard and difficult)
Ammo/Health Cabinet added in Fueldump Garage
Walljumps to Fueldump are nearly impossible bcs. high damage barbed wire
StoerFaktoR
|
Servers running this Map
---
ET-Map: Würzburg Radar Winter (Final)
28.10.2010 : 00:40
Changes:
Rain is replaced with falling snow.
More fog
Floor and some building textures are replaced with wintertextures
Summer trees are replaced with winter trees
StoerFaktoR
|
Servers running this Map
---
Texture-Pack: StoerFaktoR Textures v.01
27.10.2010 : 16:40

StoerFaktoR Textures v.01 includes: Textures for Skyboxes, Floors, Rocks, Grasses, Walls, Landscapes and so on.
Download:
--> StoerFaktoR Textures v.01
StoerFaktoR via PM
---
ET-Mod: silEnT 0.2.0
25.10.2010 : 18:20
Download & Info:
--> silEnT 0.2.0
--> List of changes
--> silEnT Homepage
TheSilencerPL via PM
---
ET-Map: Necrology (Final)
24.10.2010 : 16:51
This map is CTF styled and you have to capture skeletons placed in map for both teams. To win you have to capture 8 skeletons.
sl.Rippchen via ICQ
| Servers running this Map
---
DA Map Repository
23.10.2010 : 14:15

One of DA Map Testing Crews duties is to make a guide for new or not well known map of Enemy Territory.
And now they have reached over 200 maps!
There are explained general objective of the map (Allied and Axis side).
Size of the maps.
What MOD they tested the maps with.
Screenshots
Additional info about the maps.
Thanks for the good works goes of course to Dark Alchemy Map Testing Crew. Check out the -)A(-Wiki page.Rayden via PM

---
ET-Minimod: Zestweapons (Final)
16.10.2010 : 14:02
These weapons are based on actual weapons that have been produced at sometime in History, not necessarily WWII.
Download:
--> Zestweapons
You get Gold Colt 45/45's with Ivory Grips, Nickel Plated Luger/Lugers with Rosewood Grips, and Gold Knife/Knives with Ivory Handles. Firepower, Capacity, etc. are unaffected, this is only a skin pack.
The Pistols will work for single, dual, and silenced modes.
Knives work drawn, thrown, and lying around in the game, if your Mod supports this.
Depending on your Mod you may see Gold magazines and/or Gold Silencers for the Colt/Colts, same with the Luger/Lugers in respect to Nickel Plating.
You also get an ingame cursor to match the knife.BE0 via PM

---
ET-Serverbrowser: TrackBase
10.10.2010 : 16:02
Today, a new tracker called TrackBase was opened.
The tracker is running on a very powerfull machine, to provide a smooth system with minimum bugs.
So what's actually new on this tracker? Many bugs have been fixed, and many new features are added.
Here are some of the highlights:
Rating will drop after a longer amount of time, so you don't have to play everyday (3 days)
You can now set your own flag! You don't have to do it through the clan anymore
More space for reserved names, buddies & favorite servers
More clanflags possible, example: co-leader! Also, the leader can't be set away anymore! (Your clan can't be stolen)
Your clanpage will be easier to modify
Extended server information: you can now see when the next map starts.
Not only this, but more is new, and more will be added in the future!
Currently, only ET is supported yet, but in the future more games will be added to the tracker.
We will try to give maximum support, and if you got feedback you can post in on the forums, we'll look at it!
You can check it now at http://et.trackbase.net !
Again, if you find any bugs or have any idea, don't be afraid to post!
Kind Regards,
the TB teamPaul via MSN

---
ET-Skinpack: MultiWolf
07.10.2010 : 08:44
"One pack for 3 mods. Compatible with ETpub 0.9.1, Nitmod 2.0 & NQ 1.2.3-1.2.9
So no matter which mod you prefer, you can use this skinpack aswell."
~Molotov

Download:
--> MultiWolf Skinpack
Molotov via PM
---
ET-Map: Württemberg (Beta 4)
03.10.2010 : 17:23
phishi via ICQ
|
Servers running this Map
---
ET-Skinpack: Nitmod Skinpack
02.10.2010 : 14:19
"This new, promising N!tmod 2.0 deserve a good skinpack. Feel free to use the pack or any part of them if you like."
~Molotov

Download:
--> Nitmod Skinpack
Molotov via PM
---
QW-Mod: Bicycle
01.10.2010 : 14:31
In a world ravaged by the monsters of alien armies and domestic corporations, I thrive. Permeating every dark crevice and abyss of the world I travel where my radial legs take me, seeking out and consuming all that stand in my way. Along my travels I witness interlopers exuding cold hatred and men comprised of pure greed drain the lives from those who seek only to survive. For them the most cruel and insidious demise awaits, and for those who live beyond my greetings only insanity remains. Babbling and spitting my imagined name the wicked retreat to their cohorts, reliving their impossible defeat and mutilation.
"It was The Cataclysm..."
"The Destroyer"
"Wraith"
"Death," they say.
But the worthy, who have none to fear know me by only one name:
Bicycle.

Download:
--> Bicycle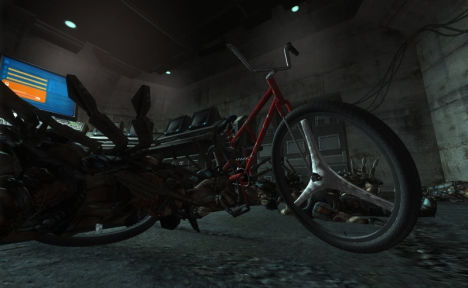 SplashDamage

---
QW-Mod: Tactical Assault v0.3.5
01.10.2010 : 14:23

QWTA is a straightforward mod in intention; it's intended to tweak the core gameplay aspects of Enemy Territory: Quake Wars, to create a more believable, more realistic experience, that plays more like a serious science fiction movie, than an arcade game.
QWTA's secondary objective is to bring more classic Quake 2/4 features to realization in ETQW, and to embrace new developments that fit within the broad ETQW/Quake 2/Quake 4/Earth-Stroggos war theme. Generally, QWTA is assuming ETQW is set before Quake 2, and will attempt to mix Quake 2 and Quake 4 technology, characters, etc, with that in mind, in addition to attempting to extrapolate modern technology to ETQW's level.
Download & Info:
--> QW: Tactical Assault v0.3.5
--> QWTA @ modDB
QWTA takes a lot of its gameplay inspiration from a few random(I'm afraid I don't recall the names.) realism mods that have popped up for the Call of Duty series of games, and the goal is to get something as an end-result that plays similarly to those, but in the futuristic setting of the Earth-Stroggos war.
At present, QWTA is intended to function with any base ETQW map, without a hitch, and it's hoped that this will continue to be the case through QWTA's development: while QWTA would certainly welcome QWTA-intended maps, they're not something that's felt should be required.
As a player, the preview video footage that was published before ETQW itself was released, spoke to me of a gritty, tactical, bloody sort of game, involving a lot of thinking and strategy, rather than the run-and-gun-fest that the released version of BaseETQW is. To that end, QWTA tries to stay true to the perceived feeling behind some of that original footage, and the impression it had on a lot of people.SplashDamage

---
RtCW-SP-Map: The Fortress 2
01.10.2010 : 14:20
Wolfenstein Files
---
RtCW-SP-Map: Hell Mappack
01.10.2010 : 14:15
Our spies have reported that the Germans have set up a lab near an underground tunnel. The Germans are taking coffins out of the tunnel, and experimenting on the zombies in the coffins.
The Germans are also taking various treasures from the tunnel. Your orders are to infiltrate the lab, and stop the Germans. They cannot be allowed to continue disturbing the dead from their sleep.
Be careful, our spies also report that some lopers are at the lab.
Good Luck, B.J.
OSA Headquarters
"This is a remake of Ron and Mike's first work, Hell_Mappack. Many new features have been added compared to the original mappack. The guys at the Splash Damage Forums have been a great help. I hope you enjoy this mappack!"
Download:
--> Hell Mappack
Wolfenstein Files
---
ET-Map: Falkenstein (Beta 3)
30.09.2010 : 17:04
SplashDamage
|
Servers running this Map
---
ET-Prefabs: Castlemodels
26.09.2010 : 16:55
"9 models from the abandoned Castle Eltz map. Included is an example map containing all 9 models properly scaled. Textures & shaders included."
~FireFly
Download:
--> Castlemodels
FireFly via PM
|
WolfEdit
---
ET-Mod: N!tmod 2.0 (Final)
26.09.2010 : 16:51
N!tmod 2.0 (Final) was relased over a week ago. A list of changes can be foud
here
.
Download & Info:
--> N!tmod 2.0 (Final)
--> N!tmod Homepage