Login
Site
Scripts
Search on page
Last forum posts
Filebase
Other
Wolfmap R.I.P.
Advertising
RtCW ToaK Servers
= Return to Castle Wolfenstein Multiplayer =
= RtCW | ToaK | Servers Announcement =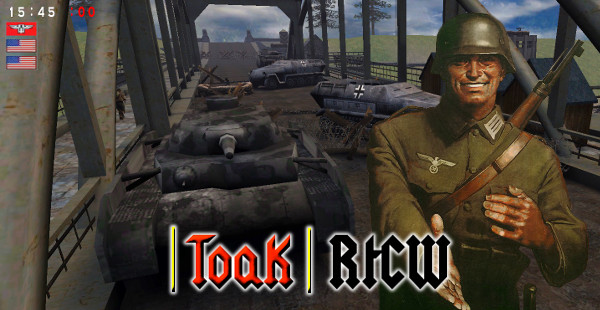 It's with great sadness that we at "Wolffiles" and "Splatterladder" announce the closure of the iconic "Return to Castle Wolfenstein" multiplayer servers run by the "|ToaK| RtCW" team, due to a huge server hardware failure.
Here's what they had to say on the matter:
As I anticipated, the hardware which ran our servers, is sadly beyond repair. Therefore as promised and announced on the website before, all benefactors for May and June 2018 got a refund, because these guys didn't donate to play on a non-existent server.

I bought the hardware more than 7 years ago, which made the "|ToaK| RtcW" game-servers possible the way they were. This is why I was able to run and maintain the servers for (relatively) little costs. The hardware was guaranteed to run 24/7 for 5 years , so in fact it was already overdue for 2 years when it broke down last week.
I did have a look at the options:
- One thing what I could do is to change our provider, and pay for each slot, which is common practice in gameserver-land. However this would limit our freedom severely to setup and tweak the server(s) according to our own taste.
It would be an expensive alternative as well, while the connection and game-experience may not be as good as it used to be.

- The other possible choice was to buy again new hardware while maintaining our current provider (and setup-freedom), with "low" costs and its superior connection-speed. In this case, which would have been my preferred scenario: I had to spend at least €500 for new hardware.

But to be frank, I had many doubts this investment will pay off the way the previous one did, since the active player-community shrank to only a handful of gamers. If there were still be enough players, I would have already bought the hardware, since "RtcW" remains to be one of the best multiplayer games ever.
But since we are down to just a few regulars, it's hard to justify replacing the equipment.

Furthermore, each month was already a struggle to "pay the rent" of €85, which is still a lot of money. And let's face it, the chance we will get enough financial support from what is left of the RtcW Community, is very small.

Hence, with a heavy heart, I decided to end the "|ToaK| RtcW" gaming experience.

I would like to take the opportunity to thank all active participants from the past and present, who made a real success of the |ToaK| servers, which include:
- Crapshoot (for his initial support with setting up the servers and improving Omnibot),
- the remaining admins (Shooty and Laura), our donaters (especially Yank and Hans Killer, who spend both through the years a small fortune to keep the servers running),
- and last but not least, of course You, the players!
It was a real honour to serve you, and I wish you all the very best for the present and future.
I truly hope you had (mostly) a good time on the |ToaK| servers!

Regards,
Hans (a.k.a. |ToaK|JD)
On behalf of "Wolffiles" and "Splatterladder" we'd like to thank the "|ToaK| RtCW" team for all their time, hard work and dedication that they've given to our Wolfenstein Community as a whole, it has been very much appreciated and you will be sorely missed by us all.
|ToaK| Guestbook HERE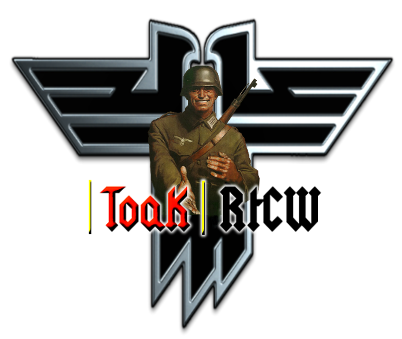 «back
Comments for RtCW ToaK Servers
No comments
« back