Login
Site
Scripts
Search on page
Last forum posts
Filebase
Other
Wolfmap R.I.P.
Advertising
EA Bridge 1.2.7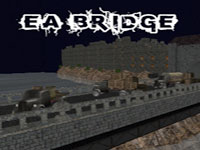 Map EA Bridge 1.2.7 by Scorpio - Situation: Recent shelling by Czervenian forces has caused the displacement of the local population. They are currently being relocated to a nearby refugee camp. U.S. forces are providing protection to the evacuating civilians.
Terrain: Light urban area divided by a bridge across the Czerven River. Adverse weather conditions (high winds and fog) prevent air support. The three bridge towers constitute key terrain.
Map EA Bridge 1.2.7 by Scorpio - Situation: Aktuelles Granatfeuer von Czervenian-Truppen hat die lokale Bevölkerung vertrieben. Die Bevölkerung wurde in einem nahegelegenen Flüchtlingslager untergebracht und US-Truppen gewährleisten den evakuierenden Zivilisten Schutz.
Terrain: Leicht städtischer Bereich, durch eine Brücke, über den Czerven-Fluß, geteilt. Ungünstige Wetterbedingungen (hohe Winde und Nebel) verhindern Luftunterstützung. Die drei Brückentürme bilden das Hauptgelände.
Test or download the map here
Source:
Splatterladder
«back
Comments for EA Bridge 1.2.7

# 1 von Alt@!r
hat die ma eigtl sowas wien objektive????


« back