Login
Site
Scripts
Search on page
Last forum posts
Filebase
Other
Wolfmap R.I.P.
Advertising

---
ET-Prefab: Foliage Example 2
14.09.2007 : 19:54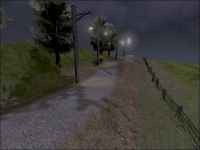 This is a test map to show the new foliage models, there are foliage models included in this pk3, however the foliage_example2.bsp and the foliage_example3.map only use one type of grass model... this is because the darker green grass was suited to the night shader and look of the test map.
12 foliage models that cover almost all the plants_sd and stock grass textures plus 12 of the same models that have waving grass. so 24 total.
The test map is also an example of alphamod blending, and can be used as an example of this.
NOTE: There is an old style english phone booth model in the foliage_example2.bsp but not in the foliage_example3.map... the reason being this model is not finished yet and will be released at a later date.
~RayBan

Download:
--> ET » Prefabs » Foliage Example 2
SplashDamage