Login
Site
Scripts
Search on page
Last forum posts
Filebase
Other
Wolfmap R.I.P.
Advertising

---
ET-Map: Eye of Horus (Final)
14.09.2007 : 12:18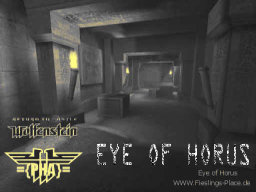 ~ Download ~
Axis have assaulted an old Egypt pyramid to get an artifact seeking the help from Horus, an old Egyptian god. Allied mission is to steal this artifact and bring it back to New York for further analysis.
Mappers Note:
This map is FPS Efficient everywhere. It has been heavily tested during 2 months on a 24 slots server. The gameplay is very balanced and the map is a lot of fun. you will not have time to get bored. Engineers and Covert ops are the most useful classes. Try it and you will not be disappointed.