Login
Site
Scripts
Search on page
Last forum posts
Filebase
Other
Wolfmap R.I.P.
Advertising

---
RtCW-SP-Mission: Pharaoh's Curse
06.09.2007 : 00:38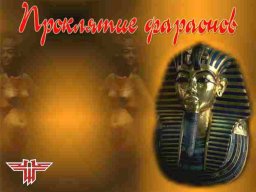 ~ Download ~
Pharaoh's Curse is a retail stand-alone mod based on the Return to Castle Wolfenstein game. All levels are inside Egyptian Pyramids with a creepy ambience. You will combat zombies and Warzombies in the begin until the last level. Your objectives are to collect some treasure, to kill all zombies guards and finally the Pharaoh!
Notes:
This modification requires a retail version of RtCW to work.
All dialogs are in Russian.
In the level 1 there are difficult puzzles and traps.
The levels are very dark.
This Mod has five levels.
You can't read a Russian interview here at Combat Folk.




Thanks: PlanetPhilip | Planet Wolfenstein