Login
Site
Scripts
Search on page
Last forum posts
Filebase
Other
Wolfmap R.I.P.
Advertising

---
ET-Prefab: ROQ flame video and candle models
03.09.2007 : 17:54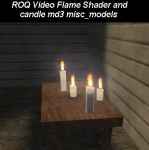 The roq flame shader can be used in place of the standard sfx/wilsflame for fire effects, this effect should work when the standard wilsflame doesn't on servers (the broken animmap code problem).
~RayBan

Download:
--> ET » Prefabs » ROQ Flame
---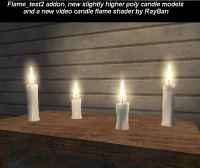 New slightly higher poly md3 candle models, using a new candle flame shader giving a more realistic look. the candle_flame video was made with blender3d, using a blend file from Nathan Dunlap with new animations by me. the new flame_test2.pk3 includes all the original files of the 1st, except altered textures ( i needed a dark wick.. ) but the new ones should be compatible still with the original models. readme.txt is in the pk3, and should explain the changes as well as the location/names of the new md3's.
~RayBan

Download:
--> ET » Prefabs » ROQ Flame 2
SplashDamage