Login
Site
Scripts
Search on page
Last forum posts
Filebase
Other
Wolfmap R.I.P.
Advertising

---
ET-Skinpack: Real Wolf ET
23.08.2007 : 22:24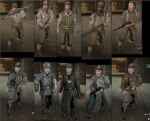 This skinpack run on classic ET without other skinpacks and No Noquarter.
Axis and allied skins have been replaces, Weapons etc... watch the screenshot!
I'm not a modder or skinner... I'm a simple ET-Player. All the files have been taken from other mods.
Thanks to all the very artists who contribute to improve this mythical game!
=1s1k=>>DEW<<
Download:
--> Real Wolf ET
Wolfenstein Files