Login
Site
Scripts
Search on page
Last forum posts
Filebase
Other
Wolfmap R.I.P.
Advertising

---
ET-Mapscript: Ragnars Battery Script
28.07.2007 : 18:48
Ragnars Battery Script adds a Bunker Assault Ramp and a rebuildable Backdoor to the map Battery using a ETPro map script.
Download & Info:
--> ET » Stuff » Ragnars Battery Script
--> Information @ SplatterLadder
Changes:
After Allies have built the Beach Assault Ramp for the 5th time it can only be destroyed by dynamite.
Bunker Assault Ramp near the North-West MG Nest available (see the command map for location). Allies can build the Bunker Assault Ramp by using the materials inside the bunker.
Axis can rebuild the Backdoor. Allies need dynamite to destroy the Backdoor for the first time. For all subsequent attacks also satchels can be used to destroy it.
Axis can spawn near the backdoor as long as the Axis command post is up and running (this is different from the ETPro map script where Axis spawn at the command post).
The command post and Axis MG nests are already built on map start.
The Generator and the Backdoor are decoupled, so the Generator does not open or close the Backdoor - it does only operate the doors near the Gun resp. the door at the bunker front.
The MG42 nests in the East Bunker (near the Command Post) are removed.
Frontline mod (see below for description).
The script includes all ETPro map script fixes.
The script includes mortis' script fixes for Battery.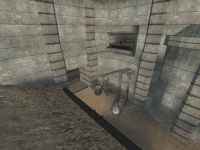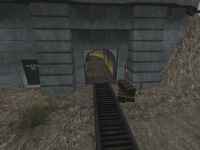 SplatterLadder