Login
Site
Scripts
Search on page
Last forum posts
Filebase
Other
Wolfmap R.I.P.
Advertising

---
ET-Map: Glider 3.0.2
26.05.2007 : 15:10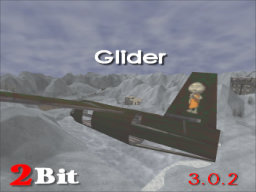 ~ Download ~
Spring 1943, the Austrian Alps: Allied Intelligence has reported that the enemy are developing a powerful new tank in a secure research facility. It is vital that one of the prototype Jagdpanther models be photographed for assessment.
Some Allied 'Horsa' gliders are in enemy hands and are crated in a nearby Axis outpost: capture the outpost and use the gliders to assist in the operation.
The Allies are dropped in by parachute and must assault the Outpost in order to gain access to the gliders crated there. They must then fly at least one glider from the Outpost to a hilltop overlooking the research facility. From there they will be able to destroy the generator, which opens the sealed door of the tank storage building.
They must steal the tank and transport it to the Outpost, where a Photo Reconnaissance Spitfire will be able to take photographs of it.
Enemy Territory Stuff
| 2bit