Login
Site
Scripts
Search on page
Last forum posts
Filebase
Other
Wolfmap R.I.P.
Advertising

---
ET-Map: Field HQ (Beta 4)
21.03.2007 : 13:06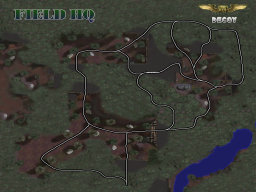 ~ Download ~
Objectives:
Blow Main Door, Blow Side Door, Build Field HQ (transmitter), Build CP for forward spawn 1, Steal Key Card and Secure at door controls, Capture Forward Bunker to gain forward spawn 2, Steal the Documents and return them to the Field HQ (transmitter).
Axis can build CP but gain no spawn. Field HQ can bestroyed with Satchel and Dyno.
There are 3 doors that require axis uniform to enter.
Planet Wolfenstein
|
Servers running this Map