Login
Site
Scripts
Search on page
Last forum posts
Filebase
Other
Wolfmap R.I.P.
Advertising

---
ET-Map: X-Posed (Final) / Update #2
23.02.2007 : 00:59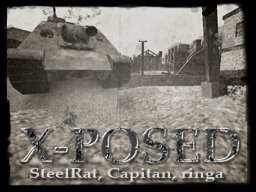 ~ Download ~
Last night Axis forces bombed a small Belgian town after an Allied attack to conquer it. Axis managed to hold the town but a team of Allies are still trapped in the town and their only way out is to steal a tank and drive thru the bombed city.
Update 1:
Scriptfix added into the download.
Update 2:
Added a tweaked script into the download.
- Fixed the tank at barrier 2
- Made new spawn points for allied team when command post is caught
- When tank get's over bridge the church spawn is caught (instead of when it passes)
- and a few more minor tweaks...SRC Gaming
| SplatterLadder