Login
Site
Scripts
Search on page
Last forum posts
Filebase
Other
Wolfmap R.I.P.
Advertising

---
ET-Skinpack: Clonewars Mod (Beta 6)
01.11.2010 : 22:44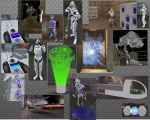 Works best with NQ 1.2.9 - This version is a public release!
Worked on this mod since january 2009, first release in august 2009, this version is from august 2010.
I've stopped working on this mod with this release. Feel free to use it on your server.
You're allowed to modify/improve this pack - just say who made the base pack you're allowed to use models/textures in other packs - just say in the readme that ischbinz made the model(s)/texture(s) you used.

Download:
--> Clonewars Mod (Beta 6)
ischbinz via MSN