Login
Site
Scripts
Search on page
Last forum posts
Filebase
Other
Wolfmap R.I.P.
Advertising

---
ET-Skinpack: NQ X-Mas 2010
31.10.2010 : 19:38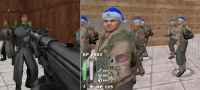 Meyerinchains's grinch skin pack for x-mas. Adapted for the latest NQ version, tested on NQ v1.2.9, Detailed readme included in the pack.
Activate g_realism 4 bitmask in your server config (Covert Ops will inherit opponent's facial features (head) when stealing a uniform (1.2.8 and higher) to ensure the best covert experience with grinch!
Download:
--> NQ X-Mas 2010
Molotov via PM