Login
Site
Scripts
Search on page
Last forum posts
Filebase
Other
Wolfmap R.I.P.
Advertising

---
ET-Map: X-Posed (Final & Fixes)
02.09.2010 : 20:55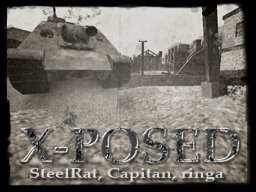 ~ Download ~
Last night Axis forces bombed a small Belgian town after an Allied attack to conquer it. Axis managed to hold the town but a team of Allies are still trapped in the town and their only way out is to steal a tank and drive thru the bombed city.
Information:
This pack is a collection of fixes made for X-Posed. Please keep in mind that this is an ETpro-Mapscript and will only work with mods that support it! (ETpro, NQ, ETpub, Jaymod...)
There are two versions of this script:
I found a repacked mapfile that made the tank indestructible, although an altered script would have been enough.
For all those who want the tank to be indestructible, choose z_xposed_fixes_NDT_v1.pk3.
It comes along with reduced timelimit and respawn times for both teams.
z_xposed_fixes_v1.pk3 contains the fixes for the normal (destructible-tank) version.
This fixpack contains the fixes of xposed_sp1.pk3 and the script on antman.info and replaces the stand-alone NDT-version to save players from unnecessarily downloading the identical map twice.
Changelog:
Clipped access to buildings with caulked insides to avoid satchelcamp-exploits
Fixed and added voice announcements
Fixed a bug that caused the tank to stop at the second barrier even if its not constructed
Increased timelimit from 25 to 30 mins
Decreased Allied respawn time from 20 to 18 secs
Allies now own the church spawn when the tank is over the bridge (instead of when it passes the church)
Added voice announcements when the tank crosses the river
Added Allied CP spawn
Phishermans Phriend
via ICQ
|
Servers running this Map