Login
Site
Scripts
Search on page
Last forum posts
Filebase
Other
Wolfmap R.I.P.
Advertising

---
ET-TC: East Front (Updates 8th/11th May 2010)
11.05.2010 : 11:24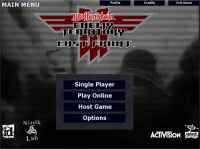 A WW2 based first person shooter game based on small squad battles in the battlefields of eastern Europe between 1941 and 1945 that focuses on both realism and arcade game-plays, currently under development for the Enemy Territory game engine.
Download & Info:
--> East Front (01-05-2010)
--> East Front (Update 05-05-2010)
--> East Front (Update 08-05-2010) [new]
--> East Front (Update 11-05-2010) [new]
--> 'East Front' Website
Update 11-05-2010:
Fixes:

Major upgrade to the auto-waypointer.
Many bug fixes.
Lots of other stuff.
Additions:

Maths and AI now use your graphics card instead of your CPU for many things (Windows only at the moment).
Lots of other stuff.
It's very important that you delete all the files in your EF\nodes directory before extracting this new version!

Update 08-05-2010:
Fixes:

AI (Bot and NPC) CPU usage decreased.
NPC code is now stable even with bots running as well.
Fixed some random stability issues.
Reduced CPU usage of code in lots of places.
Fixed the Bot weapon switching bug.
Fixed the Bot reload bug.
Improved AI code in general.
Added missing xposed textures.
Fixed a lot of possible issues with original ET code.
Fixed a issue with the Auto-Waypointer code that could cause it to generate incomplete waypoints.
Lots of misc fixes and improvements.
Additions:

CovertOps now have a airdop marker that drops a constructable MG nest.
(NOTE: Airdrop Marker will change in the future to become a reward for any class and will do different things instead of just drop a constructable MG Nest).

AI sniper point generator now saves them to a file that it loads on future startup of maps.
Bot/NPC path finding now uses 4 threads instead of 1 on windows to take advantage of multi-core CPUs.
Fixed and improved pain and death animations.
Players/Bots waiting for a medic now retain the last position of death animation instead of flipping over.
Other stuff I can't think of right now but is uber cool, I will update this later with more info.
Tyrlop via MSN