Login
Site
Scripts
Search on page
Last forum posts
Filebase
Other
Wolfmap R.I.P.
Advertising

---
ET-Skinpack: NQ Addon Pack v1 (Final)
02.04.2010 : 23:17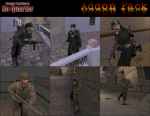 This Skinpack works with NQ 1.2.3 and above.
Put the pk3 in the NQ folder of your server.
To prevent problems, remove all other skinpacks from your server before using this one.
Please take a look into the readme to read the changes in detail.

Download:
--> NQ Addon Pack v1
A few of the changes:
New Playerskins for Axis and Allies
Class specific Level-9 hats
New sounds (spree, skill-up, win)
Teamspecific Command Posts with new Signs
New Textures for flags, pennants and signs
Stained Texture if you're using a Binocular or Sniper Scope
Removal of the MLB-Stuff in the MLB-Maps
Better Terrain Textures for Radar Summer (all Versions)
And many more...