Login
Site
Scripts
Search on page
Last forum posts
Filebase
Other
Wolfmap R.I.P.
Advertising

---
ET-Mapscripts: Caen (Version 1 to 4)
21.02.2010 : 21:15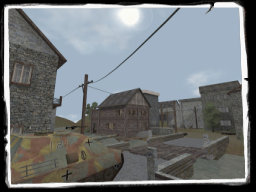 This pack is a collection of fixes made for Caen by
Phishermans Phriend
. Please keep in mind that this is an ETpro-Mapscript and will only work with mods that support it! (ETpro, NQ, Jaymod...)
There are two versions of this script. If you do not want to add additional filesize to your server, use the non-pk3 version (caen_fixes.zip). If you want some visual/acoustic improvements, use the pk3.

Mapscripts are included into the download:
--> Caen 1
--> Caen 2
--> Caen 2 Rev. 1
--> Caen 3
--> Caen 4
Changes:
Phishermans Phriend:
Added a teamdoor to the Upper Entrance of the Battalion Headquarters to prevent the Axis from stealing the OBJ before the entrance is blown (teamdoor.jpg)
The Tank now has a Temperate Skin instead of the Desert Skin (river.jpg)
Tank does no longer drive through the built barrier (Caen1/4 only)
City is now perma-owned by Axis when the Tank is moving
The Battalion Headquarter Teamdoors now dissapear when the Wall is blown
The Weak Wall can now be dynamited when the Antenna is blown (Caen2_rev1 only)
The Bridge can now be constructed by the Axis for better attacking (Caen2_rev1 only)
Fixed and added some (Voice)-Announcements
All constructibles now have shortnames

rockst*r:

The River is now clean and transparent (pk3 only, thanks to Diego for the textures, river.jpg)
17sec attacker, 23sec defender respawn time
Fixed and added Voice-Announcements (pk3 only, MLB sounds with Marko's permission)

mortis:

Fixed MG Lean Exploit

Ragnar:

Fixed City Pillar Exploits