Login
Site
Scripts
Search on page
Last forum posts
Filebase
Other
Wolfmap R.I.P.
Advertising

---
Wolfenstein: Walktrough, Review & Bugs
13.09.2009 : 00:12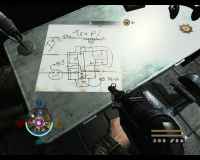 A few things for the singleplayer of Wolfenstein:
--> Walktrough @ IGN
--> Review by ZeroPunctation
--> Language Bugs



<-- Looks like a easter egg

Weak Sales for Wolfenstein
"September 10, 2009 - The latest NPD numbers for August were revealed today, and the newest entry on the list didn't fare nearly as well as Activision Blizzard probably hoped. Wolfenstein, the latest chapter in the acclaimed first person shooter franchise, was released on August 18. Despite its shooter roots and well-known history to help drive fans to the game, the title appears to have driven many of them away, barely selling little more than 17,000 units for its debut month.

The shooter, developed by Raven Software and published by Activision, didn't receive a horrible score across the board, with Game Stats currently listing the critic's average at 7.0. Fans, however, don't seem to share the same opinion, with an average hovering around 4.2."
Planet Wolfenstein
|
Wolfenstein Zone