Login
Site
Scripts
Search on page
Last forum posts
Filebase
Other
Wolfmap R.I.P.
Advertising

---
ET-Minimods: 5 Scopes & New Binocs
10.11.2008 : 23:11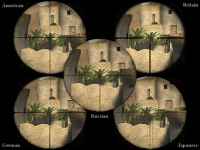 This pack includes five diffrent types of scopes used during World War 2. American, Britain, German, Japanese and Russian. They are copied from CoD5 and converted by
IndyJones
to W:ET.
Download:
--> 5 Scopes

A new style for the binocular-sight.
Download:
--> New Binocs
SplashDamage