Login
Site
Scripts
Search on page
Last forum posts
Filebase
Other
Wolfmap R.I.P.
Advertising

---
ET-Map: Streets of Italy (FP2)
21.09.2008 : 23:12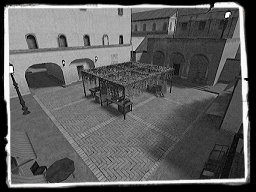 ~ Download ~
Allies:
Navigate your way around the Italian city and get that gold from the hands of the Axis.
Axis: Prevent the Allies from stealing the gold. Damage their vehicle, don't let them destroy our barriers!

Features:
custom escortable vehicle (Willy Jeep)
over 170 new custom textures
over 50 new custom sounds
custom sky
chickens!
nicely made map with unique atmosphere
Changelog:
Fixed dynamite issues
Fixed looping sounds
Fixed Jeep clipping
Fixed wallhacking in the tower
Fixed some light leaks
Fixed mortar issues
Fixed Mercedes glass transparency
Fixed black lines on the sky
Added Jeep stops few meters before barriers, to prevent repairing instead of arming dynamite
Added Command Post is a additional spawn for both teams
Added Jeep stops in the middle of tunnel, and is awaiting gold there
Added cracked wall in tower can be destroyed with satchel/dynamite
Added some roofs are unclipped now
Added Health/Ammo cabinets near Market Square
Added MG42 near CP
Added primary Axis house is bigger, and they spawn more inside to prevent SK
Added ladder to the roofs
Added constructable ladder to the balcony (for Allies)
Added fixed some brush problems...




IndyJones via MSN
| Servers running this Map