Login
Site
Scripts
Search on page
Last forum posts
Filebase
Other
Wolfmap R.I.P.
Advertising

---
ET-Map: Canal Sniper (Final)
23.06.2008 : 16:04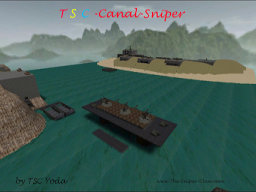 ~ Download ~
This giant map plays in 1942 in the environment between Dover and Calais. Typical beach based bunker arrays on the Axis side stay face to typical rock based bunker forts at the Allied side.
This map is as real as in ET possible. All fort based cannons are ready to fire, also all anti-aircraft-cannons. A elevator at the allies-side is functional, also a giant cannon at the Axis side, called "Dora".
The depth of this map is around 3200 meters square.
ET-Only
|
TSC