Login
Site
Scripts
Search on page
Last forum posts
Filebase
Other
Wolfmap R.I.P.
Advertising

---
~ ET Christmas Mods ~
12.12.2007 : 15:02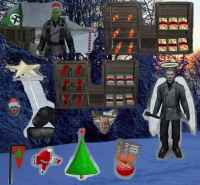 Weihnachten naht und, wie jedes Jahr, sind auch dieses Jahr wieder neue Weihnachts-Mods erschienen. Um die Sache zu vereinfachen gibt es bei uns alle bisher veröffentlichten Weihnachts-Mods in einem Zip zum download.
Screenshots und eine Info-Datei befinden sich im Zip des jeweiligen Mods.
Download:
--> Christmas Mods
NEW: Christmas 2007
Hello, last year I collected some stuff in X-mas style and now I packed all files into one pack.
Including:
Snowball skin instead of grenade
Snowman on baserace map
Ammo- & Medpack (new model style) with red ribbon
X-mas tree Landmines
Santa style Mortar bullet
X-mas colored: Satchel and construction light
Santa hat for both teams
Funny X-mas end game music
Hope others can enjoy the holiday also!
Greetz,
{PRZ}Molotov
Content:
Christmas 2007
Ammo + Health
Ammo + Health II
Angel
Grinch
Sackmines
Santa Hats
Santa Shell
Wand
X-Mas Helmets
X-Mas Minemarker
X-Mas Minetrees