= Return to Castle Wolfenstein =
= RtCW Age of Horror =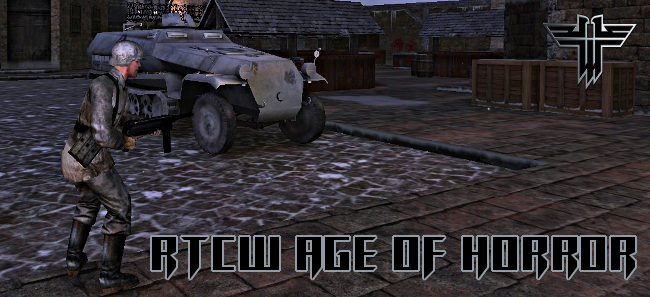 Vicpas has released a new update of his amazing "Return to Castle Wolfenstein" singleplayer adventure, entitled, "Age of Horror". There's 18 maps to play, plus a special bonus map too, with each level being an excellent challenge for all players, new or old.
This superb creation is a definite, "must have", download for all "RtCW SP" fans.
What's new? :
- A new graphics patch, created by HellBaron
- New and improved textures
- Two new secret areas
- Many bug fixes
Screenshots:
Important tip:
If you get a screen error on the map, "Ville", follow the instructuons below:
1 - Open the file wolfconfig.cfg, in your "RtCW" main folder, with the "notepad" program.
2 - Search for the lines:
"seta com_hunkmegs 72" - change the value 72 to 512.
"seta com_soundmegs 24" - change the value 24 to 128.
3 - Save the file and reload the game.
This error occurs because of the line, seta s_khz "44", in the new file autoexec.cfg.
Download the new version of "RtCW Age of Horror" HERE
Vicpas on Youtube HERE
Source - ModDB - Vicpas