Login
Site
Scripts
Search on page
Last forum posts
Filebase
Other
Wolfmap R.I.P.
Advertising
ET: Legacy - Coders Needed
= Wolfenstein: Enemy Territory =
= ET: Legacy - Coders Needed =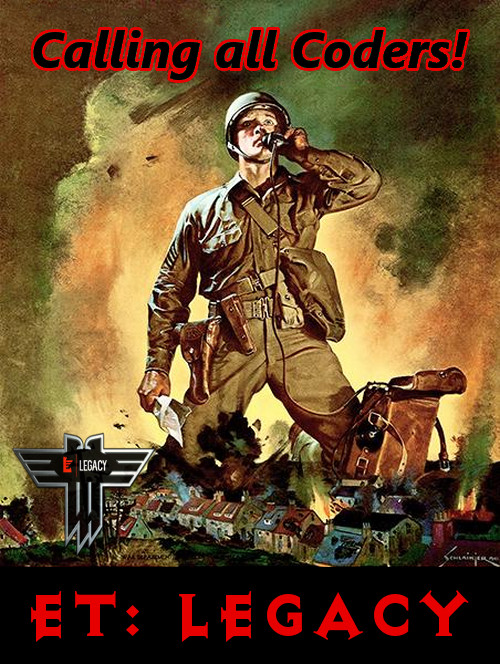 In respects to "Return to Castle Wolfenstein" and "Wolfenstein: Enemy Territory", our Wolfenstein Community has been very fortunate over the years to have enjoyed so many superb game modifications. These community-created mods have enhanced our Wolfenstein games and in turn, our gaming experience too, giving us a very varied and enjoyable menu to choose from.
However, with regards to "Wolf: ET", we at Splatterladder and Wolffiles have to give a special mention to one modification in particular and that is the excellent "ET: Legacy Mod". This is far more than a game modification, it's actually a rebuild of the game, from the ground up, just like it's "RtCW" counterpart, "ioRtCW".
At this moment in time, "ET: Legacy" is considered by many players to be the future of our beloved game and every year it just gets better and better. The Devteam have many helpers, in respects to mappers, testers and bug reporting, but they still lack the necessary numbers in respects to game coders which, if rectified, would really increase the progress of game development.
If you are a coder, or have friends who code, please visit the Devteam on their "Discord" channel and discuss how you can help contribute to this superb game rebuild. You won't regret it.
Screenshots:
ET: Legacy Discord channel HERE
ET: Legacy Official website HERE
«back
Comments for ET: Legacy - Coders Needed
No comments
« back