Login
Site
Scripts
Search on page
Last forum posts
Filebase
Other
Wolfmap R.I.P.
Advertising

---
ET-Map: Neuschwaben (Final 2)
12.09.2007 : 12:55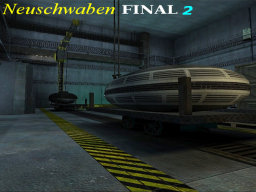 ~ Download ~
Final 2 is mainly a game balance update for the Allies.
1946, North Norway. Briefly after end of war, a secret Elite-Commando fled consisting of former coworkers Werner von Braun's to north Norway and built an enormous, self-sufficient underground aircraft factory. The purpose was to manufacture newly developed Reichsflugscheibes which placed every other fighter or other missile equipped with completely new technology into the shadow. The new fuel of this so-called Reichsflugscheibe, contained an up to then unknown chemical-toxic substance, those the missile on the 5-fold Speed of sound brought (Mach 5). A goal of the Allieds is it to infiltrate the Elite-Base and that just finished and successfully tested prototypes of the Reichsflugscheibe. Destroy both Reichsflugscheibes and Steal the Secret Documents! The code name of this secret operation is "Silver Penguin".