Login
Site
Scripts
Search on page
Last forum posts
Filebase
Other
Wolfmap R.I.P.
Advertising

---
ET-Map: Caen 2 (Final) / Fixes
17.02.2009 : 21:29
Vorlage
mad a scriptfix for Caen 2.
Molotov
made a fix for Caen 2. The fixes are included in the download file.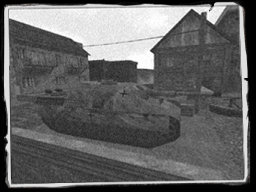 ~ Download ~
The Allies have control of Caen and have set up a Battalion Headquarters across the river. The Axis are trying to regain control of the town and get to a broken down tank, break into battallion HQ, and steal combat intelligence.
Scriptfix by Vorlage:
cliped window
removed MG42
Fix 1 Changes by Molotov:
fixed and added voice commands
changed background noises
tank fire sooner to the hq
river with animated clean water
1 missing texture added
20 min mission time, 17/23 sec attacker/defender respawn time
etc...
Caen 2 Fix 1 Screenshots:


Caen 2 Screenshots:





HFC|Vorlage | |>B<|Molotov
| Servers running this Map