Login
Site
Scripts
Search on page
Last forum posts
Filebase
Other
Wolfmap R.I.P.
Advertising

---
ET-Skinpack: Übersoldat / Super Soldier
04.07.2010 : 21:22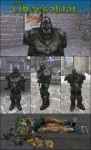 Replaces the Axis Soldier with an Super Soldier from RtCW. Only the model and textures are changed, the behaviour is still the same as without this small modification.
Download:
Installation & Technical Information:
Put the pk3 into the mod folder of your server.
This mod works with all mods, for No Quarter we created a own version of this modification (__ubersoldat_nq.pk3).
Flubber via MSN