Login
Site
Scripts
Search on page
Last forum posts
Filebase
Other
Wolfmap R.I.P.
Advertising

---
ET-Map: Operation Tower (Beta 5)
24.01.2010 : 21:38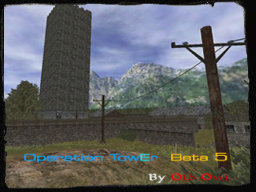 ~ Download ~
Allies have to search and transmit the secret technical manuals through a radio, fight their way to reach the top axis tower where are the manuals.
Changes from Beta 4 to Beta 5:
Fixed the allied spawn bug.
Added a double axis door to the Tower gate.
Added a constructible wooden barricade to the wall breach near flag.
New underground tunnel.
New water shader, clear and shiny.
Reduced the tunnel entrance from the tunnel gate to avoid players to fall down and die.
New trees planted, new furnitures in axis spawn.
Old Owl @ Dark Alchemy
|
Servers running this Map