Login
Site
Scripts
Search on page
Last forum posts
Filebase
Other
Wolfmap R.I.P.
Advertising

---
ET-Map: Cathare (Final)
23.12.2009 : 22:30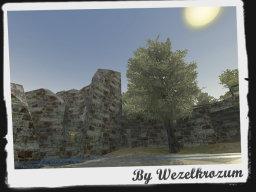 ~ Download ~
Southern France, 1942. The Axis has discovered the Cathare ruine which is perfectly for their headquarter. The Allies noticed the Axis soldiers comming slowly towards this destroyed castle and try to prevent them from capturing it. Kill the Enemy and you will be victorious!
"Finally after a lot of testing and delay of the releasedata, Cathare has become a high-quality Wolfenstein map. This is a fragmap created by Wezelkrozum made for funfights, clanfights and lan-party's and optimised for 4vs4, but the maximum is 20 players. It has also a navigation file in the pk3 for servers having bots. The map has some great special features such as: HQ textures and environment interaction. For more information visit Wezelkrozum.com."