Login
Site
Scripts
Search on page
Last forum posts
Filebase
Other
Wolfmap R.I.P.
Advertising

---
A few facts about Wolfenstein
17.08.2009 : 20:43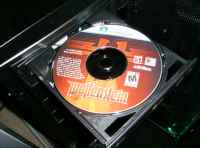 In
this thread
at
Wolfenstein Zone
Zim*
already got the retail version of the new Wolfenstein.
- The DVD is protected with SecuROM
- MP is identical with the leaked beta
Anybody knows why the old RtCW logo is used on cover and DVD instead of the new Wolfenstein logo?

May be of interest if you want that your system stays clean:
--> SecuROM Removal Tool (don't forget to RTFM)
Official release date in the U.S. is the 18th, in Europe it's the 21th.

Small Update:
A patch will be released on the 18th for auto-download, the whole changelog can be seen here.