Login
Site
Scripts
Search on page
Last forum posts
Filebase
Other
Wolfmap R.I.P.
Advertising

---
ET-Map: 'Praetoria: Mission Two' (v1.1)
09.08.2009 : 06:51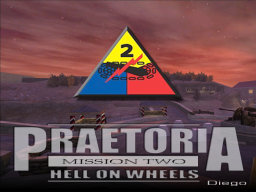 ~ Download ~
The Allied Armor Forces are running low on fuel. They must use the tank to breach the Praetoria Depot Defenses, replenish their supplies, and escape to the tunnel that leads to the airfield.
Changes in v1.1:
Script fix added to abort starting sounds during warmup phase. (Thanks Qualmi)
Fixed typo in the Arena file.
Added missing texture: camocraft_additions.tga
Added custom allied image icons for the side entrance and side wall to prevent the missing texture bug on the command map.
Fixed black shadow on rock wall.
Removed text from Axis crates.
Fixed hole by the camo nets.