Login
Site
Scripts
Search on page
Last forum posts
Filebase
Other
Wolfmap R.I.P.
Advertising

---
ET-Map: 'Praetoria: Mission One' (v2.0)
08.08.2009 : 01:21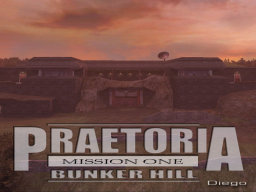 ~ Download ~
Allied Paratroopers are enroute to capture a german airfield in northern Italy. An advance allied ground force must destroy the Radar Control Center inside a heavily defended bunker to allow their airborne forces to slip through the Axis Anti-Air defenses undetected.
This update is to make the map compatable with the next Praetoria missions, and to add Gamestate improvements that I have learned while working on Mission Two. ~Diego
Gameplay Changes:
Bridge bunker has been expanded in size and a doorway was added that leads to the health kits.
Final primary Allied spawn point has been moved here to bridge bunker that allies spawn closer to the surface and can put more pressure on the front entrance.
Allied spawn at the Axis CP bunker has been removed.
Neither team receives a spawn time bonus when building their CP.
Axis default spawntime set to 20 seconds. 18 seconds after the Tunnel Doors are blown by the tank.
Allies spawn time changed to 15 seconds.
North Doors have been linked to the generator. They will automatically open when the generator is blown. However, they must still be closed manually by the axis.