Login
Site
Scripts
Search on page
Last forum posts
Filebase
Other
Wolfmap R.I.P.
Advertising

---
RtCW-Mod: Upgrade Weapons Mod v1.0
28.06.2009 : 18:07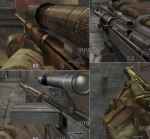 This mod made by
Jakob
changes weapons sounds in high quality, weapons textures and some effects.
Download:
--> Upgrade Weapons Mod v1.0
What is?
RtCW: UW allows you to relive the materpiece of ID games and activision, in most right and realistic way.
Textures:
Great part of the textures has been modified with photoshop and saved in 32bit format for a better, deep quality of color. Textures based on original weapons photos, for a new and realistic look.
Sounds:
The mod changes weapons sounds (reloading, fire, shells...) in high quality, gret part of sounds are recorder from original weapons sound.
New Effects.
RtCW: UW adds some little effects.
Wolfenstein Files