Login
Site
Scripts
Search on page
Last forum posts
Filebase
Other
Wolfmap R.I.P.
Advertising

---
ET-Map: Christmas Tank (Final/Fixed)
25.12.2008 : 14:05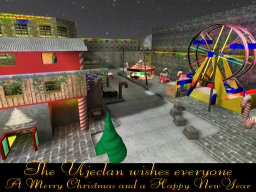 ~ Download ~
The alies have to escort the tank to the santa's building and destroy the presents there. Axis have to stop the allies.
Update:
Because of the new No Quarter this map had to be adjusted for hunkmegs problem.

Special stuff:
2 moving trucks
1 funny car that flies to objective
A carnaval train
some christmas sounds
a giant carnaval wheel
a Carousel