Login
Site
Scripts
Search on page
Last forum posts
Filebase
Other
Wolfmap R.I.P.
Advertising

---
~ Happy Humbug! ~
18.12.2008 : 12:49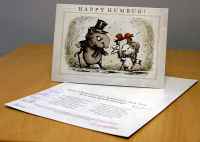 Splash Damage
is sending out christmascards to homepages who write about their christmas project and spend £50 to
Baird's Tapir Project
.
The card is drawn by Laurel 'Tully' Austin and Ed 'BongoBoy' Stern added a christmas poem to it.
In this spirit, merry christmas and save the tapirs!
We're Splash Damage, developers
Of Enemy Territ'ry
Multiplayer First Person Shooters
Played upon your PC.
We're working now on something new
Cross-platform, without peer
But right now all we want to do
Is spread some Christmas cheer.

Splash Damage loves the Tapirs
Unknown in Bethlehem,
But post this on your website
And we'll give some dosh to them.
They dwell in Costa Rica
And to prove we're not all talk
We'll sponsor a research project
At SaveTapirs.org
Links:
--> Baird's Tapir Project
--> Splash Damage Christmas Tapirthon 2008
Planet QuakeWars