Login
Site
Scripts
Search on page
Last forum posts
Filebase
Other
Wolfmap R.I.P.
Advertising

---
Night of Fight - Level 6
28.08.2008 : 13:54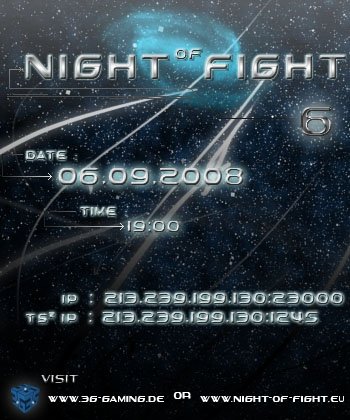 Hallo zusammen,
wiedermal ist es so weit. Sabbernd vor Vorfreude, darf ich heute bekanntgeben, dass der Termin der 6. Ausgabe der Night of Fight nun feststeht.
Am 06. September 2008 ab ca. 19 Uhr ist es wieder soweit.
Ausgetragen wird dieses Event diesmal von der 3G-GAMING - Community (ehemals ET Cologne).
Gespielt wird, wie bisher auch, ETPro.
Wo das ganze stattfindet??? Da:
Server-IP: 213.239.199.130:23000 Teamspeak-IP: 213.239.199.130:1245
Mehr Infos dazu werden in den kommenden Tagen bekannt gegeben...
Nähere Informationen findet Ihr auf
--> Night-of-Fight.eu
Grüße,
Schnoog