Login
Site
Scripts
Search on page
Last forum posts
Filebase
Other
Wolfmap R.I.P.
Advertising

---
ET-Skinpack: Dewpack (Beta 3)
16.07.2008 : 09:54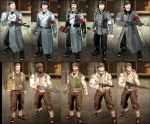 Reality skinpack for No Quarter 1.2.0
This skinpack is made for run only on noquarter mod the changes are applyed only on image files without scriptwork this is a tga full quality skinpack all changes are made in high definition with paint shop pro x2 without added compression.
Download:
--> Dewpack (Beta 3)

Changelist:
Allied

added skins without class-symbols
added legs with fixed color U.S.Army brown (aligned to the officercap)
added helmets with fixed color 2ndRangers green and without class-symbols
added realistic skins for Thompson and Garand M1

Axis:

added realistic detail for all greatcoat skins
added helmets with a realistic german decals
added legs with fixed boots aligned to the guised version
added Waffen Oak-Leaves assault skin for the soldier
added fixed red cross insigna for the medic
added fixed color skin for the engineer aligned to the cvops
added Heer Army insigna for the cvops cap
added realistic skin for MP40 and Mauser rifle

Common:

aged paper camp map
improved hud icons
realistic sounds for the light weapons
Thanks to:
Berzerkr (GER) for the allied body skins
Dr.EViL for the axis soldier original skin
Hort21 for the allied cvops skin
Giancarlo Schiano for some details
You can modify if you want.
Wolfenstein Files