Login
Site
Scripts
Search on page
Last forum posts
Filebase
Other
Wolfmap R.I.P.
Advertising

---
ET-Skinpack: Noroda NQ
27.04.2008 : 11:04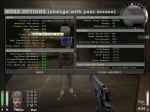 We like evey new stuff which is released for the ET and we try to collect the best to give more fun experiences for the palyers.
So, here is the most complete NorodaNQ skin and sound pack (14 MB) which is for the NoQuarter mod.
Download:
--> Noroda NQ
Including new:
players skin/faces/backpacks
loading screen
blood limbo
weapon sounds
flags
weapon skin
endgame sounds
loaction foles for the firetam (names instead of coordiantes
48 funny chatmenu sound some with sprites
ingame config menu
glowing objectives (green color)
including a files which help set to 128MB the hungmeks to the players (server admin must put in the etmain directory)
shrubbot config examples for funny text+sound commands (u only need copy-paste to your shrubbot.cfg file)
and many more...
Greetz,
Molotov-Rockstar