Login
Site
Scripts
Search on page
Last forum posts
Filebase
Other
Wolfmap R.I.P.
Advertising

---
ET-Skinpack: Madras Pack v1.3
03.03.2008 : 14:20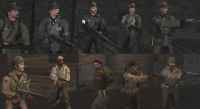 Are you looking for a little something extra in your Enemy Territory gaming experience? If so, this mod just may be what you're looking for! Contained within this download are some nice looking skins for the weapons and other items; If that's not enough to tickle your fancy, there are also some new sounds to be found, including some that will take you back to the glory days of playing Return to Castle Wolfenstein! This is just what you're looking for, if you want to enhance your gaming pleasure!
Download:
--> Madras Pack v1.3
This mod will make some of the following changes:
Some weapon new skins
New flags
New menu background & music
New loading map
A definite must-have for the casual player or the hard core gamer in you!
Wolfenstein Files