Login
Site
Scripts
Search on page
Last forum posts
Filebase
Other
Wolfmap R.I.P.
Advertising

---
ET-Map: Wolfsrudel 4 (Final/Fix2)
06.02.2008 : 19:36
UPDATE: Now only the allied engineer can plant dynamite on the antenna.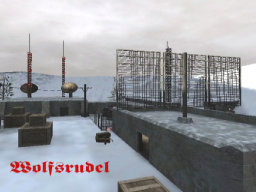 ~ Download ~
April, 1940, the allied troops have found a radar base near the city of Narvik. The German Submarines in the North Atlantic seem to be commanded by this base and to be supplied with orders. The Mobile Emitters must be stolen and the Main radiomast destroy. The Axis troops shouldn´t be able to send new orders to their submarines.
Changes to the previous versions:
Remodeling all buildings
Texturfitting and Bugfixing
Loading Screen



pUrp0se via PM
|
Gaming GoNe