Login
Site
Scripts
Search on page
Last forum posts
Filebase
Other
Wolfmap R.I.P.
Advertising

---
QW-Tool: ET:QW Starter v0.97
17.10.2007 : 02:07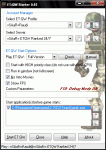 ET:QW Starter is a small tool to connect easy to your favourite servers. It also manage the accounts and let you set your individual gamesettings. How does it work?
1. Enter your favourite Game Server data (Name, IP address optional server password)
2. Click "Start ET:QW"
3. ET:QW Starter connect automatically to the selected server without login screen, intro movies, etc.

Download & Info:
--> ET:QW Starter v0.97
--> Info Deutsch
--> Info English
Features:
no installation required: download & start
start options: high priority class, run in fullscreen mode or window, disable intro movies, show FPS, Custom Parameters, etc. More will follow.
detect ETQW installation directory
Debug Mode (F10). Let create your ET:QW command line for testing or using in other ET tools.
encryption for account and server passwords
require nearly no ressources (4MB RAM, 0% cpu)
launch other applications before ET:QW starts
cleandesperado