Login
Site
Scripts
Search on page
Last forum posts
Filebase
Other
Wolfmap R.I.P.
Advertising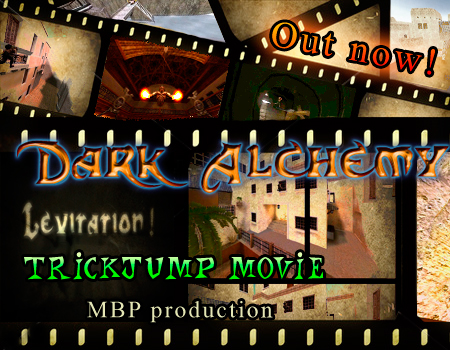 MBP production has once again produced a trickjump movie for our pleasure.
Everything is recorded on Dark Alchemy server #4.
Enjoy it in High Definition.


Starring:
-)A(- Tweety, -)A(-TroyPolaMalu and -)A(-WuTang**


Music by:
Chriss ONAC - Apprentissage




Thanks -)A(-´s for participating in this
MBP


---
Newsposter: Rayden
zuletzt geändert am 08.09.2011 - 18:57 Uhr von schnoog
(0)

Dark Alchemy Gaming Community invites everyone to show their talent with graphic skills or non-skills.
It is mostly for fun, so nothing serious.

Visit us here for more information about the contest.
Dark Alchemy Staff
---
Newsposter: Rayden
zuletzt geändert am 06.09.2011 - 16:45 Uhr von schnoog
(0)
Have you ever looked for a well visited ET server to play on?
Maybe you used the Splatterladder.com serverlist and got surprised that the some of the first placed server were shown with 50+ player, but only a few realplayer were fighting, and tons of bots were in spectator.
What was the reason for those circumstances?
It`s easy:
Some serveradmins modified their server to push them in tracker serverlists and, tbh. fool the tracker.

To stop those foolings, we at Splatterladder modified the code design of our serverlist to order the server in an other way than simply count the slots currently used:
We came to the conclusion that some kind of rating would be the best way.
This is now implemented to bring a new level of service to the community.

But compare it by yourself:

Old-style-serverlist
New-and-better-serverlist



---